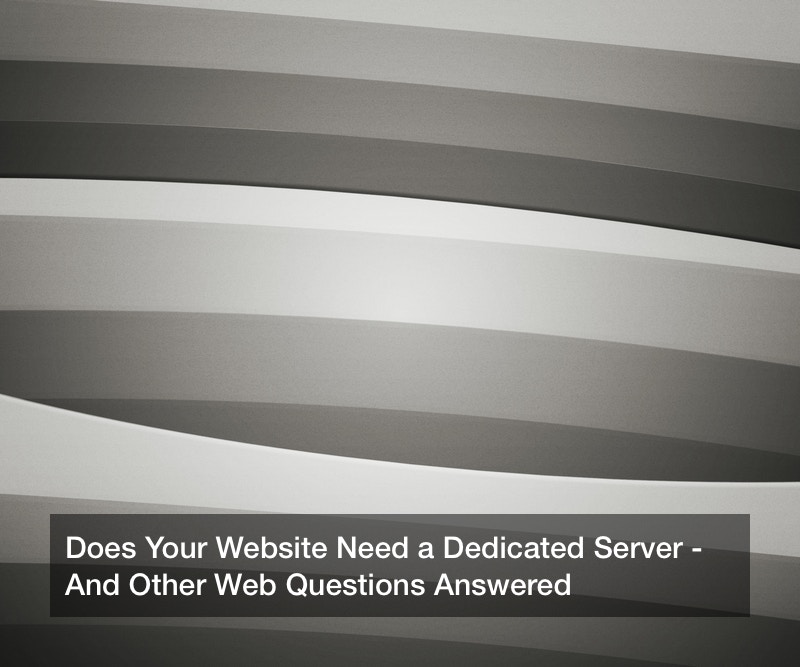 Many small business owners know that they need a website. It can make running their business so much easier! They can reach customers across the globe. Using technology also makes it a breeze to keep track of clients, orders, sales, and more.
However, what many business owners do not know is how to set up this website, so it aligns with their brand and message. If you fall into this category, continue reading. Here's everything a small business owner needs to know about website design, set up, and high speed website hosting.
High Speed Web Hosting
You will learn so much about marketing, design, and setting up your web hosting. But for now, let's start with the basics. High speed website hosting!
High speed website hosting starts with picking your domain name. This can also help you determine who will host your website. Many business owners work with a site that can sell them a reasonably priced domain. You can also get a free domain name when purchasing web hosting from specific companies. However, your domain may only be free for up to a year. You will have to pay for it after your plan ends. You can also add ad-ons to your cart. You can purchase things like domain name privacy when checking out with your plan.
While you can pick a .com domain name for your website, many hosting services also give you the option to buy another extension like .org. Think about your audience. What would make for a more trustworthy domain name?
However, .com is usually the gold standard so try your best to find a name that can end in this extension. It's not mandatory, though!
Only one person can have the same domain name at a time. So if someone has already purchased your domain name, you will not be able to use it! Most web hosting websites will suggest alternative names for you if this is the case.
Domain names are absolutely required unless you are using a third party blogging website like Blogger. However, this site doesn't have all the features a business owner needs out of a website. For example, you can't set up an e-commerce store using sites such as these.
When picking your domain name, ensure that it contains words that pertain to your business. This way, your brand stays consistent, and people who are interested in your business will be able to find you on the web easily. Ensure it is something that you can also use on social media. Furthermore, you don't want your domain name to be too long, either.
You will also need a domain registrar. A domain registrar is a company that manages domain names for individuals and businesses.
The Various Kinds of High Speed Website Hosting for Your Business
Shared Hosting
There are also many different types of hosting, so make sure to do your research when selecting one in particular for your brand or business.
First, there is shared high speed website hosting. This is the most popular, and many small businesses typically opt for shared high speed website hosting. Benefits of shared hosting include:
It's affordable.
Installation is easy.
It's fast, and maintenance is so easy!
There is always room to grow when using shared high speed website hosting.
VPS
There is also VPS hosting. This stands for a virtual private server. This is another common type of high speed website hosting. Each user has their own virtual machine, basically.
Having a VPS can make it easier to set up a phone line if you need business digital phone system installation.
Dedicated Server
With high speed website hosting, many people opt for using dedicated servers to store all of their files.
This happens when the customer has complete use of the actual server. They rent this server from the hosting company. Benefits of using this type of system include:
More flexibility.
A unique IP address.
No overhead costs for maintenance.
Unshared resources.
This type of hosting can be a little pricer than shared hosting. However, the benefits outweigh the slightly higher upcharge.
Cloud Hosting
Cloud hosting is another way you can upload your content to the web.
Cloud high speed website hosting is a type of VPS. Dozens of servers and machines are networked together to create a cloud system, where space and storage are maximized!
Cloud storage and hosting is also a trustworthy alternative to housing your own files. Your files are not stored in a literal cloud of data. Instead, they live at a heavily protected and air conditioned data center. Using cloud hosting will also allow you to upgrade your hosting plan at any time. You can easily request more data as your business grows, which is a huge pro!
Colocation Hosting
Colocation hosting provides the customer with all the equipment they need to run their own hosting server. This is a great option for a business owner who is already quite technologically savvy.
Things to Consider When Selecting your Hosting
Of course, aside from the type of hosting that's best for your needs, there are several other factors to consider.
First, think about what type of project you will be working on. You will need various different tools to conduct several different projects. Next, put some thought into how much traffic you will expect to your site. You probably won't see much traffic the first year unless you are actively marketing a blog or service on your website. Then, you will need to consider what type of hosting plan you will need.
Lastly, ensure you read plenty of reviews before making a solid decision on your web hosting.
Getting to Know WordPress
WordPress is a fabulous tool that can help you build your website or blog. There are several other similar tools online. However, not many of them offer the same amount of tools like WordPress.
Many people ask the following question when they realize they need to build a website for their business. If they use WordPress, will they need high speed website hosting. The truth is, you need both! Think of WordPress as your house, and your hosting service as your neighborhood. You can't have one without the other. Your home is more visual, as it's what you and your friends and family see at first glance. But your house sits on the street, just as your files live on your host's servers.
You should also become more familiar with this high powered tool. However, a lot also goes into designing a website. There are third party widgets that you can install when using WordPress. They can help you design your website exactly as you want it, without having to learn how to code.
Shared hosting is quite popular amongst WordPress users. Therefore this is a great place to get started when building your website.
Building Your Own Website Versus Outsourcing the Work
As previously stated, you have two options when creating your website. You can create it yourself, or you can outsource the work. They each have their own set of benefits. For example, when you create the site yourself, you can customize it exactly how you want it. No one can capture your vision as you can. However, there are also a lot of hurdles. You will have to learn a few concepts. This can be hard if you already work a demanding job or run a wildly successful business.
Hiring someone to design the website for you can get expensive. Some web designers can charge up to $5000 dollars per web page!
This can seriously add up if you're only trying to create a simple landing page for your ice cream shop.
The Benefits of Using WordPress After Purchasing Your Hosting Plan
There are many website builders that claim you can build a website with just a few simple clicks. However, these sites are not as trustworthy. Most of them own your content, which means they can shut down your website at any time. This can be scary if you're using your website to drive traffic and blog. Many of these sites will not allow you to monetize your website either, since they own your content. WordPress, on the other hand, gives you more freedoms!
Your blog is also built-in when you use WordPress. This is one of its main features. Your blog will be ready to use, even if you're just using the default theme.
A website is the best place to showcase your style, and there are hundreds of templates, plugins, and themes that can help you achieve this style.
These are a few creative ideas you will need to think about after investing in your high speed website hosting.
You will also have a greater sense of peace of mind when a trustworthy provider is storing and saving your files..
Types of Business That Need Websites
Hopefully, all this talk of high speed website hosting is starting to make sense because now we are moving onto why it's so essential for small businesses to set up their own website. Here are a few businesses that can stand to gain from all the benefits technology can provide.
A Divorce Lawyer
If you are a divorce lawyer, you will need your own corner of the web to market your services. Don't be left in the dust. Stay above the competition.
Family Law
Even a family law firm should sign up to create their own website. They can make it easy for clients to book consultations by setting up a form on their website.
Social Security Disability Lawyers
Even a social security disability law firm should consider investing in a well-built website. They can list their office hours on their website and can even detail their experience on their About page on their website.
General Attorney
These are all specific branches of the law. However, this doesn't mean that a general attorney doesn't need a nice looking website either.
If you are an attorney, stay updated online. You can even create a blog on your website so that you can drive more traffic to your website and land more business!
You can write about topics regarding how to find a good lawyer. You can also write about resources that people need when on the hunt for a good lawyer in their area.
Conclusion
Setting up a website for your small business is essential in this day and age. However, it can also be confusing trying to create one that is both functional and easy to use. Not to mention, you also want your site to look stunning! However, this is not always the easiest task as there are so many factors that go into high speed website hosting and site design. However, if you follow these tips, you will have a beautiful website that will attract customers and flex your professionalism, no matter what you do for a living. You can even run a local law firm or own a bakery!