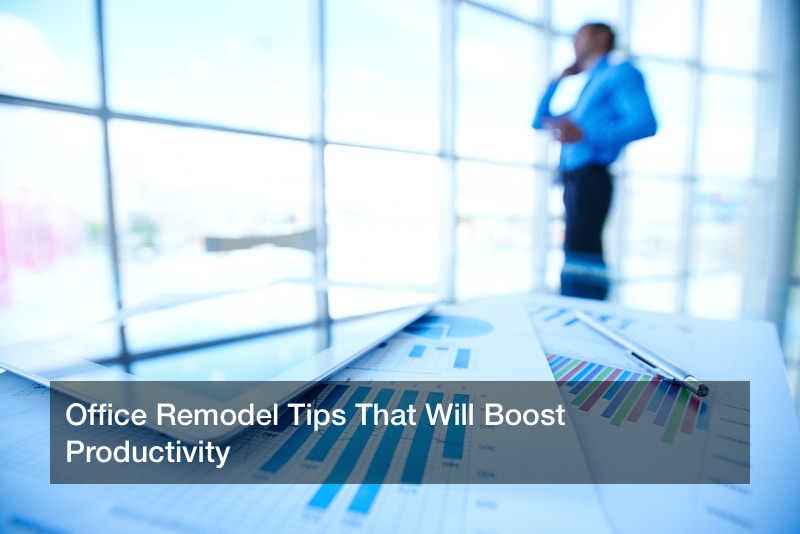 In the United States there are over 30 million small businesses. Some of those small businesses work out of a home office or garage space. Others rent an office space. If you and your business are ready to own your own office space, congratulations! That's a big step in growing your business. Searching for new office space is exciting, but it's very unlikely that you'll find one that matches perfectly with your company's needs. You'll likely need to remodel. This article will discuss what you need to consider when remodeling a business building, especially an older one, as well as the key areas to focus on.
Benefits of remodeling a business building
You want the inside and outside of your business to reflect who you are and your mission as a company. If you purchase an older building but are a new modern tech company, the two elements won't line up. Remodeling a business building to match your specific business will help clients and customers have a better understanding of who you are, even before they enter the building.
Remodeling a business building isn't just for the better aesthetics, although that's a huge plus. The design and layout of an office space can directly impact the productivity and success of the workers. 90% of workers said the design in their office either positively or negatively impacted their productivity.
Changing the layout of your workspace can also give your workers a chance to interact in a new and better way. Open layouts increase work between leaders and employees as well as between departments. Collaboration could be a key element your business is missing to be even more successful.
However, some business models are not as successful with an open layout, so the reverse can also apply. If your office space is open but your employees need their own separate areas to focus on work, making that change could boost success and productivity.
Office Remodel Tips
1. Make A Plan From The Start
The first step that will make or break your office renovation is starting with a plan. So many people have an idea of what they want for their new office but don't take the time to write out that plan and get lost along the way. This only adds more time and money to the project, not to mention the stress. If you take the time to make a plan when you're remodeling a business building, you will save yourself time, money, stress, and will have a more clear idea of the end goal. Here are a few things to consider as you make your office remodel plan:
What is the budget?
What are the most important projects/renovations that need to be done?
What steps do we need to take to keep the office open as long as possible during the renovation?
When is the deadline for our renovations to be complete?
What is the new theme/feel we are trying to achieve?
As you make your office remodel plans, you may also consider hiring a business consulting service. Talking through your plans with a professional that has a broad range of experience will help you ensure you haven't forgotten any important steps and that you are ready to start the remodel.
2. Start With The Necessities
When you're remodeling a business building, the first thing you should start with are the necessities. Not only do you want to make sure the building is useable before you start with the aesthetics, but you also want to make sure you have enough in the budget for the most important elements of your remodel. This includes major systems that keep the building running at top capacity, including the HVAV, electricity, and plumbing. Especially if you're remodeling an older building, you'll want to have an inspector come check that the systems are working well or whether they need to be replaced.
HVAC will be one of the first systems you'll want to check on when remodeling a business building, especially if it's an older building. Outdated HVAC systems can make your office space a dangerous area to work in and can cost you more money in the long run. Here are some common problems will old HVAC systems:
Bad air quality that smells musty or expel harmful exhaust fumes
An old system can make rattling and clanking noises that distract your workers
Inefficient heating and cooling that costs more money even when it doesn't work properly
An old system requires more repairs and downtime than an updated system
If you're remodeling a business building with an old HVAC system, make sure to work with a commercial HVAC installation company to get it replaced as soon as possible.
After HVAC, you will need to check on your commercial plumbing system. Again, with older buildings, the plumbing system can be outdated and hazardous to your building. If the building was constructed before the 1990s, there's a chance lead was used in the piping, which is a huge danger to the health of anyone using water in the building. Older pipes are also more prone to cracking and leaking which can cause flooding or hazardous material to be released in your building.
You will want to work with a commercial plumbing contractor when remodeling a business building to either replace or repair pipes and the plumbing system in your office.
3. Don't Forget The Roof
Alongside the main systems for the building, you'll want to check on the roof to see what shape it's in. If roof repair is required, you'll need to work with a professional to have it brought up to the quality you need to use the building.
If you are needing to replace the roof or have a total roof renovation, you'll have to consider a few different options for the material you use:
Built-up roofing: Built-up roofing (BUR) is a standard tar and gravel roofing material. It's a flexible option as it's built up in layers and can get altered for budget or durability needs.
Metal roofing: Metal is a popular option for commercial roofing. It's a strong, durable option that gives a building a clean, modern look. However, it's one of the most expensive options and is prone to rusting so if you live in a wet climate, it may not be the best choice.
Green roofing: Green roofs, also known as living roofs, are roofs that are covered in vegetation and layers of growing medium. There is also an irrigation system and barrier between the roof and the vegetation. It's a common option, especially for companies that focus on being eco-friendly and sustainable. Some of the advantages of green roofs are their ability to protect the building from the elements and improve energy efficiency.
Along with the type of material you use, you will also want to consider the type of build that will work best for your office. The most common options are flat roofs, sloped roofs, or pitch roofs.
Flat Roofs: Flat roofs are more cost-effective to build than the other roof types because they require less material. They come in a few color options, but white is the most popular as it reflects light and is more energy-efficient.
Sloped Roofs: Sloped roofs are great for wet climates as the water runs off rather than pooling on top. While flat roofs are the easiest to work on as far as repairs, some sloped roofs, like the low sloped option, are fairly safe.
Pitch Roofs: While pitch roofs are more often seen in residential areas, they are still used in commercial buildings. The most appealing aspect of pitch roofs are the water and snow run-off, so they're a great option for wet or snowy climates.
As you consider your different roofing options, make sure to research and get bids from local construction companies to find the best option to work with on your project.
If you're remodeling a business building and plan on using commercial solar systems on your roof, you will need to consider that as you choose your roofing material. Some options are better than others and easier as far as the solar systems installation process.
Regardless of the size of your building, you'll want to work with a commercial roofing contractor to get the repairs done. Professional roofing contractors have experience working with a variety of materials for roofing and also have the expertise and teams to get a largescale project done in a timely manner. Before you hire a contractor, research a few different options and companies to get quotes for the price.
4. Interior Flooring
Before you move forward with interior design and layout, you will need to consider your flooring options. Flooring becomes much more expensive when you have to cut it in specific sizes, so it's better to deal with it when you have an open, empty space.
When it comes to flooring, there are a few different options you can consider for your office remodel:
Hardwood: Hardwood flooring is a classic flooring choice. It comes in a range of color options and can even be environmentally friendly. However, hardwood flooring is prone to scratching, denting, and water damage so you will have to make sure to take extra care to keep it looking nice.
Concrete: Concrete flooring is a great choice for large office spaces as it's budget-friendly and can be customized to match the feel and theme of your space. It's also durable and can be treated to be water-resistant. If you choose to install concrete flooring in your building, make sure to work with a commercial concrete contractor to have the job done properly.
Carpet: Carpet is a great choice for an office space that requires insulation from noises or for an office where workers spend a large amount of the day on their feet. There is quite a bit of flexibility when choosing carpet as your flooring option in your office as it comes in a large range of styles and colors. It's also a great choice for those working on a budget. However, carpet needs to be cleaned more often than other flooring choices, so be prepared to hire a janitorial team or local carpet cleaner.
Ceramic tile: Ceramic tile is a beautiful and durable option for office flooring. For your more high traffic areas, you will want to choose a ceramic tile that has a higher rating on the PEI (Porcelain Enamel Institue) hardness chart. Ceramic can stain, but if you hire a professional cleaner every so often, you should be able to keep it looking clean and new for a long time.
Vinyl: Vinyl can be a great option for offices that are high-traffic. It's also a great option for those on a strict budget. Vinyl can be treated to be scratch and stain resistant so it can hold up and look nice even with a lot of traffic. It comes in a range of colors and styles and can match any style or theme of your office.
One thing you will want to consider regardless of your flooring type if the insurance you have. If your office space is on the ground floor, you will want to have flood insurance in case of water damage. You'll also want to be in contact with a trustworthy commercial flood damage repair company to restore your office space in the case of flooding.
In Conclusion
Remodeling a business building is a big project to take on, especially if it's an older building. If you follow these suggestions to plan, start with the essentials, focus on the roofing and interior flooring, you will be well on your way to creating a productive place for your business to grow and succeed.