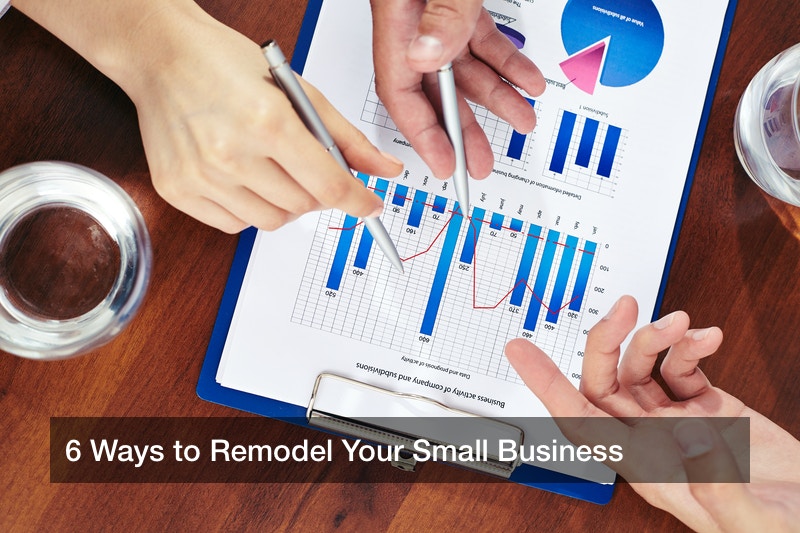 When you run a small business, it can feel like your "to-do" list is nearly endless. From managing clients to looking after employees, you have enough to do just running your day-to-day operations.
It might sound strange then to think about remodeling your small business. We tend to associate remodeling more with the home than with a business. However, many small business run partially or entirely from home.
Therefore, remodeling can mean both renovating a business or storefront, and also renovating a home office. Both of these are important depending on exactly how your small business is run and where it is located.
Here are 6 ways you can remodel your small business, no matter where it's located.
1. Start Outside
There are more than 30 million small businesses in the U.S., but how many of them think about their exterior as much as their interior?
The exterior of your business is for both you and your customers. When it comes to customers, if you have a public business like a storefront, your exterior is your first impression. It's what people may think of first when they think of your small business. That's a hugely important image.
But even if you run your small business from home, the exterior of your home is important. Whether you're home or running a storefront, the outside of your business can also set the mood for you. It's how you start your work day and it is a reflection of yourself.
You don't need to hire commercial landscapers to improve and remodel the outside of your business or home. Of course, you can go the professional route if you have the means and want a more complicated landscaping design.
However, for many, some simple yard work and a bit of green thumb will be enough. This spring is a great time to get some new plants. They can brighten up the exterior and interior of your business or home. Simple potted plants can thrive on a windowsill and require little maintenance. Or you can make a more extensive garden with various species of flowers and other plants.
Some landscaping tasks aren't optional. You should always keep your lawn neat, whether you have a storefront with some grass or work from home. Here, again, you can hire professionals to do some tree pruning for you to keep vegetation in check on the property.
The exterior of your business is as much for you and your peace of mind as for your customers. So think about what kind of landscaping would make you happy.
2. Consider Safety and Security
Accidents happen. The work day can easily feel routine and regulated, but even in the course of an ordinary business day, the unexpected can occur. Spare some thought for safety and security while remodeling your small business.
A small business can sometimes be a target for break ins. Small businesses may have money within the business itself and more lax security measures than a larger business.
If you have a storefront and are worried about security, consider investing in a security system for your business. There are a lot of security systems available, but these 10 are among the most highly recommended for 2020:
ADT
SimpliSafe
vivint.
ProtectAmerica
cove
nest
SecurityPricer
Deep Sentinel
ring
LifeShield
If you run your business from home, security may be an even bigger concern. You not only need to protect your business, but also your family.
Many of the options listed above are great security systems for your home. They are easy to install and operate, making them excellent choices for protecting your home, business and family.
But you shouldn't only think about security. Safety is another consideration to take into account while remodeling your small business.
Sometimes, remodeling for safety is as simple as identifying problem areas and repairing them. Keeping up on regular maintenance can not only keep things running smoothly, but can also keep you and any employees and customers safe.
At other times, remodeling for safety is also about the surrounding area. Whether you have a storefront or work from home, be aware of what is on hand, such as first aid kits. Is there an urgent care clinic nearby if an emergency arose? You as the owner of the small business should be aware of these kinds of things.
3. Find and Eliminate Mold
Mold is a sneaky and persistent problem. Some severe forms of mold, like black mold, can even cause health issues.
Part of your effort to remodel should include finding and eliminating any mold present in your business or home. Every building is susceptible to mold, so it doesn't matter if you have a storefront or a home office in this case.
If you are concerned about mold, consider getting a mold inspection. This is important for any home or business to have regularly. Mold is silent and sneaky; the problem could be severe before you even realize it exists.
While there are a lot of places where mold can hide, here are some of the most common places to find mold:
In showers and bathtubs
In sinks and toilets
Inside the walls and floors
In, on, under the kitchen sink
In the refrigerator or pantry
In the microwave or stove
On mattresses
Around windows and windowsills
In air conditioning and heating vents
In couches and curtains
On indoor plants
In the fireplace and chimney
In the attic
In the basement
In the garage
In carpeting, fabric and upholstery
In washing machines and dryers
When you go looking for mold in your home or business, you may only find a mild case lurking in some obvious places. However, you might be surprised to discover a significant mold problem, even if you regularly clean and maintain your property.
If you have a mold problem, you should address it as quickly as possible. In the most severe cases, you can get professional mold removal to mitigate the issue.
If you are removing the mold yourself, be sure to wear old clothes you can throw out later. Mold can get into the fabric as you work. Also were a N-95 or P-100 respirator mask, goggles and gloves. Mold spores are so small they are not visible to the naked eye. As you disturb them, they can get into the air and therefore irritate your lungs, eyes and throat if they are not protected.
Whether you found the mold in your home or business, make sure the area is well ventilated while you work. Scrubbing a moldy surface with a mold cleaner is an easy and effective way to remove the mold. However, things like carpet may need to be torn up and thrown out if the infestation is bad enough.
4. Remodel the Bathroom
The bathroom might sound like a low priority for a business, but a bathroom remodel can really lift up the rest of the property. A beautiful storefront or home with an old, ugly bathroom is a jarring thing that can leave a bad impression with customers or visitors.
If you have older plumbing, you might also have some underlying issues that could be fixed through a remodel. If you have a clogged drain, poor water pressure and other issues, you can address them while freshening up the look and feel of the bathroom itself.
More extensive bathroom remodels might require the help of a professional contractor. If your pipes need to be fixed, that may not be a project you want to take on yourself.
However, there are also many bathroom remodel projects for your home or business that you can take on yourself.
For example, you could limit the amount of new tile you add to the bathroom, as tile gets expensive very quickly. You can also go with paint instead of tile. A fresh coat of paint can make your home or business feel and look fresh without costing you much money.
Also, look at things like your faucets and light fixtures. These are easy and cheap to replace. If you are adding a fresh coat of paint, you might as well update your fixtures to match.
If you are buying new items for the bathroom, check for used items before buying everything new. This will save you a lot of money. It can also mean you create less waste by finding a new use for something that might have ended up in a landfill instead.
5. Do It On a Budget
No matter what you decide to remodel in your home or business, you should take a good luck at your budget before committing to anything. Remodeling doesn't need to be a massive expense that hurts your bottom line. Property management is about managing your budget and expenses as well as the physical location itself.
When considering a remodel, think about creative ways you can save money. First, plan out your projects. Then, figure out what your budget for those projects is. Then, before starting any of your remodeling tasks, consider the following money-saving ideas for your remodel.
First, see how much you can get locally. Buying from local vendors can save you money and help local businesses. When it comes to small business, it's a community effort. You aren't in competition with each other as much as you are players on the same team.
Finding remodeling pieces for your home or business locally can create a sense of community while upgrading the look of your business. For example, you can get local art that can brighten up the entrance to your business, your work area or desk, or even your bathrooms.
You can also replace furniture for less by looking locally. This might mean places like the Facebook Marketplace and yard sales more than local businesses, though. Secondhand furniture might require a little love to shine, especially if it's spent a long time in someone else's home. But with a little elbow grease it can look as good as new.
Take advantage of the time you're spending on the remodel to throw out everything you don't need. Clearing out clutter can make your home or business feel larger and more comfortable. Clutter can impact our mental states as well as our physical spaces, so don't let it pile up.
You can also easily remodel your business or home just by finding opportunities to add more lighting. This can mean larger windows or new lights. Either way, more light will brighten up the whole space and give it a fresh feel.
6. Know What You're Working With
Finally, get intimate with the details of your home or business. Especially if you have larger projects in mind, you should know exactly what you're working with. That means knowing the area and management as well as the physical structure itself.
When it comes to the physical structure, you should understand as much as you can about the home or storefront. You might not realize, for example, how the structure is connected to the foundation. In places with shallow soil, for example, a pipe pile is used to create a deeper, stronger foundation that goes far underground. In other places, more or less natural light might be available, or the lighting can change dramatically depending on the time of year.
These are just a few of the concerns you could have while renovating. Every home or business is different. See if you can learn the specifics of things like the pipes, foundations, lighting, windows, walls and other internal structures so you can know how and what to remodel.
But when doing a big remodel of a home or business, you might run into concerns that are not structural. A remodel can also have legal implications. You might have restrictions on what you can do or how you can do it. Check on your local laws to see what the building codes say about what kinds of remodels you can do.
Additionally, if you are remodeling a home, you may have restrictions depending on who owns the structure. Sometimes homeowner association management companies don't allow for certain kinds of renovations depending on how they will impact the structure.
No matter how you decide to remodel your home or business, go into this process with a plan. That will allow you to collect all the information you need, create a budget and do the renovations that make the most sense for your small business.